Performer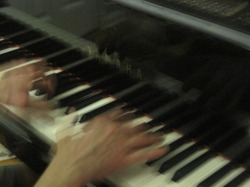 As a jazz pianist, Kim Portnoy has performed in clubs and concert halls and has appeared with Clark Terry, Louis Bellson, Bobby Shew, David "Fathead" Newman, Mike Metheny, Nick Brignola, Peter Leitch, David Halen and vocalists Madeline Eastman, Erin Bode, and Roseanna Vitro.
Besides his own recordings, he can be heard on Jay Hungerford's "The Keys to the City" and as pianist and arranger with Asa Harris on "All in Good Time" (MAXJAZZ label).


Upcoming performances!
Monday, August 30, 2010 7 p.m.
Winifred Moore Auditorium @ Webster University
The music of Duke Ellington played by Kim and
Debbie Lennon, Paul DeMarinis, Steve Schenkel,
Kevin Gianino, Willem von Hombracht
Monday, September 27th, 7 p.m.
A rare performance of the Kim Portnoy Jazz Orchestra!
Winifred Moore Auditorium @ Webster University
Kim can be heard with his trio (bassist Ric Vice and drummer Clarence Newell) on Great Day, a recent jazz release from Victoria Records.
Kim's larger ensemble, The Kim Portnoy Jazz Orchestra, has performed his jazz compositions for The International Association of Jazz Educators convention in Atlanta,

the St. Louis Blues Heritage Festival, The Sheldon Concert Hall's "Notes From Home" concert series, and KFUO FM's "From the Garden Live!" radio series broadcast from the Missouri Botanical Garden.

Their CD is entitled "Wash Away the Dust of Everyday Life".
Soon to be released -
"…most this amazing day…
", a cycle of ten songs for jazz choir and instrumentalists.